What is Allegro Japan?
Allegro Japan is the first online marketplace dedicated to connecting Japanese independent businesses and creators with the rest of the world.
Using advanced AI-based procurement to make ordering from Japan easier and cheaper than ever before, we are on a mission to provide a global platform for the most creative, unique, and high-quality companies and products, that until now, would have required a trip to Japan to find.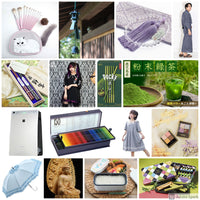 Allegro Japan Shipping
Allegro Japan offers free, high-quality international package shipping and tracking from Japan on every order, made possible through a special relationship with one of the most reliable package shippers in the world, Japan Post, and with the goal of making Japanese products accessible and available internationally like never before. All orders will be shipped via:
Japan Post EMS Package Service for orders to the USA. Japan Post Airmail Package Service for orders to all other countries.
Deliveries from Japan to North America, Asia, and Europe typically take 1-2 weeks, but in some cases may take longer because of Covid-19-related service disruptions. Japan Post package tracking is automatically included on all orders.