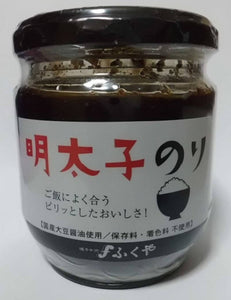 Product details
A traditional food from the Hakata area of Kyushu Island, this delicious tsukudani is made from mentaiko and Ariake seaweed, and is a great accompaniment for Japanese rice.
Ingredients: raw paste (Japanese), brewed soy sauce, sugar, suketodara egg, processed brown sugar, fermented seasoning, fructose, dried paste (domestic), powdered candy, starch, salt, sardine, water candy, yeast extract , Brown sugar honey (brown sugar, raw sugar, liquid glucose), dextrin, seafood extract, katakuchiiwashi, shrimp, katsuo-bushi, kelp, shiitake mushroom, chin (flying fish), seasoning (amino acids, etc.), antioxidant (VC), niacin , Color former (Na nitrite), enzyme, (including wheat and soybean as part of the raw material).
Please refrigerate after opening.
Contents: 175 g x 4 containers = 700 g
Made in Japan
Shipped directly from Japan