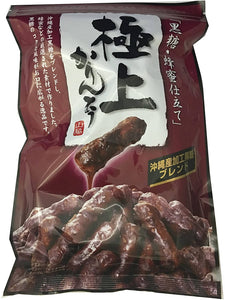 Product details
This traditional Japanese favorite is an addictive snack that combines savory peanuts with the sweet taste of honey and Okinawan brown sugar, deep fried, to give you a peanut flavor like you have never had before. Unique to Japan and worth exploring for any curious snack fan.
Ingredients: Sugars (saccharose, brown sugar, processed brown sugar (Okinawa), white sugar, starch syrup), wheat flour, vegetable oil, honey, egg, skim milk powder, yeast, oatmeal, wheat germ, salt, colorant (caramel).
Contents: 140g x 6 bags, to keep you snacking for a long time!
Made in Japan
Shipped directly from Japan